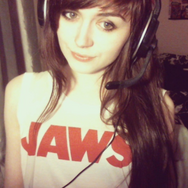 Annie Marie G., also known as Vengelfe, is one of the five members of The Pixel Pact. She is from the United Kingdom.
Vengelfe started her YouTube gaming channel on July 1, 2011. She was once part of a server called RiotCraft, which is owned by LucieeTehGamarh's sister KimmieRi0t. She is also one of the founders of the Pixel Pact, an all girl gamer group. LDShadowLady, Yammy xox, MittyMoxx, and NyanStrike are also part of the Pixel Pact. Vengelfe reached 100,000 subscribers on April 3, 2014.
Vengelfe is currently taking place in a series called Minecraft Enchanted Oasis. LDShadowLady and Mitty are also members of the Pixel Pact and in this series as well. 
Vengelfe also has a non-gaming YouTube channel, AnnieBitRay . She uploads vlogs, tutorials, and other videos on this channel. Vengelfe also has a cat named Catbug
Vengelfe also is dating huskymudkip
Ad blocker interference detected!
Wikia is a free-to-use site that makes money from advertising. We have a modified experience for viewers using ad blockers

Wikia is not accessible if you've made further modifications. Remove the custom ad blocker rule(s) and the page will load as expected.